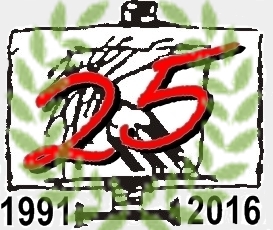 Dear Friends,
This year the Foundation celebrates a modest anniversary 25 years of activity supporting the handicapped applying diverse forms of the art-therapy.
The International Biennial of Disabled People's Fine Arts is one of them.
Presently we are going to organize the 14th Biennial.
13 past editions showed the great popularity among disabled authors both in Poland, and abroad. Each time a few hundred artists from Europe, not to say such far countries, as Colombia, Peru and Thailand have sent their works to the competition. For example in 2000, 660 authors sent almost 1200 works!
We are inviting cordially to participate at the Biennial competition. You will find all details in the attached appendix and regulations. We wish you good luck in the artistic activity and personal life, but first of all good health in peace.
On behalf of the Foundation your sincerely