O Wschodnio - Europejskie Centrum Rehabilitacji
---
EAST-EUROPEAN REHABILITATION CENTER

The East-European Rehabilitation Center (EERC) is a non-governmental organiza- tion established in 1992 in Ciechocinek by a group of people with disabilities who wanted to share their own experience and knowledge of successful rehabilitation. The program is addressed not only to the disabled people but also to their families, medical staff, and local authorities, as well as to visitors and citizens of Ciechocinek. The East-European Rehabilitation Center organizes international exhibitions on new rehabilitation equipment, facilitate international exchange among groups of people with disabilities and of trainers, organizes special events such as lectures, concerts, art exhibitions and sightseeing tours.
The purpose of the Center's program is the active
rehabilitation and social integration of people with disabilities.

To achieve this the following means are utilized: balnelogy, kinesthesia, hipotherapi active rehabilitation, music, sport, vocational training, art and social events. Every year between 600 and 700 people take part in the courses organized by EERC.

---

Statut Wschodnio - Europejskiego Centrum Rehabilitacji
---
---

Osoby
---
Barbara Hansen
Prezydent Fundacji
Dariusz Mokosa
Sekretarz Generalny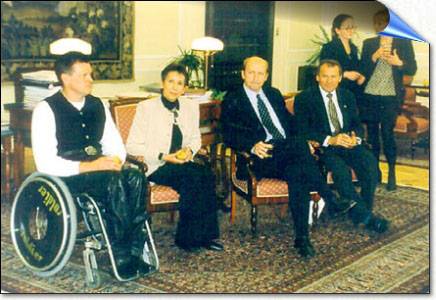 Spotkanie z Marszałkiem Sejmu RP
Maciejem Płażyńskim w 1998 roku
podczas prezentacji programu WECR